About Yoder Ag Services:
If there was one word to explain what Yoder Ag Services is about, it would have to be farmers. It is our purpose to help them meet the needs of a growing population -- by selling seeds, traits, and offering options to aid in plant and soil health.

Contact Us
Company History
Yoder Ag Services has its roots in agriculture. For generations, our family has been committed to excellence in growing and producing quality crops.
Fred Yoder, while working on the farm decided to join Andy Farmwald in 1976 and became a full partner in his DEKALB Seed Dealership in 1980. Upon Andy's passing in 1982, Fred became full owner and operator of the DEKALB dealership, and has been selling seed since then.
In the fall of 2010, Fred and his son Josh and daughter Sarah started working together and in January 2012, formed Yoder Ag Services LLC to better serve customer's needs as well as offering new products and services in a growing industry.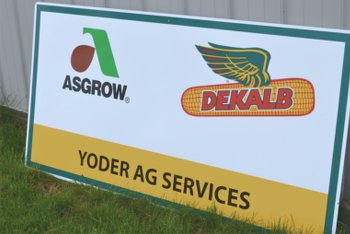 We offer a wide variety of industry leading products to serve our customer's needs.